#1 Festival For Kids




[Mtn Xpress 2013 Awards]


A top Awesome Activity for Toddlers in AVL





LEAF is THE FESTIVAL to take your family to!



"The 'LEAF' tradition really amplifies the meaning of family in the most positive sense I've seen at any event!"
- a LEAF member.

Parents: Childcare Details at page bottom
BOOM!
LEAF is #1 Festival for KIDS...and it just got even better!
Kids' Village Is STARBURSTING across LEAF
for 7 mini-interactive villages & One Big FAMILY ADVENTURE

Laugh and play while exploring 7 mini-villages within the Land of Lake Eden. Every village has interactive art fun for all ages: little kids to teens to young at heart. AND mixed within find food, drinks, handcrafts and healing arts. A treasure map hunt will help kids explore fun adventures.

and kids-family specifics will be posted here soon-

SO much family goodness!
Longtime LEAFers - here is the insight... LEAFlet Kids Village was SO AMAZING yet a bit isolated, and parents would get trapped there. Many parents requested beer in kids village or a main stage....we couldn't do that so we starbursted EVERY aspect of the beloved Kids Village throughout LEAF. Below is an overview & more to come. The map is in design - look for orange labels for FAMILY ADVENTURES.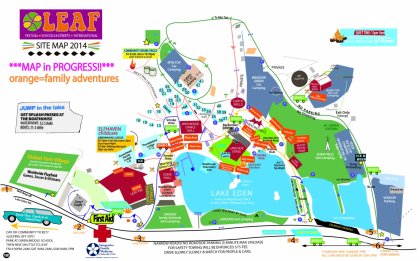 1. Roots Village! Discover Roots Family Stage & Toy Boat Circus by Eden Field hemlocks overlooking the majestic lakes and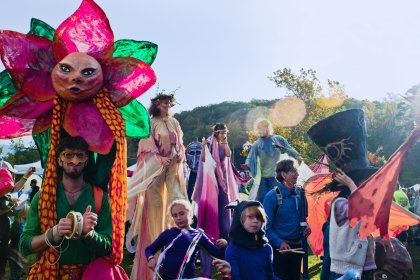 mountains. It will complement the camp scene and be in tune with the magic Eden Field vibe.
2. Barn Village! Appalachian Voices hosts interactive games. Warren Wilson College create Renaissance Arts: blacksmith, fiber and timber.
3. Easel Rider Village! Nestled below healing arts by Jam Tavern, flock to the Easel Rider Mobile Art Lab hosting creative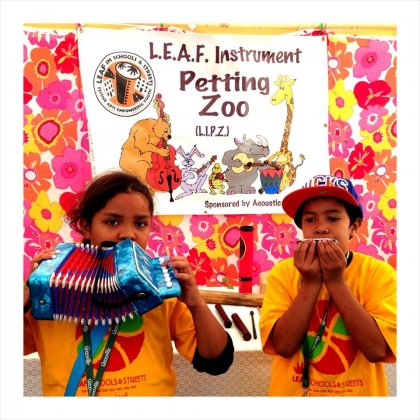 activities including Creation w/ Colors, Imagination Station, ALNUGE GLOWS @ LEAF w/ Artist Cleaster Cotton, Mama-Baby Tent & noisy fun-filled LEAF Instrument Petting Zoo (LIPZ). Blow the trumpets!
4. Adventure Village! By Lakeside stage, paint, play, shop for goodness and explore. The Jelly Dome (think giant jelly fish, interactive & misting waters), Costume & Photo Booths, Art Gallery, Tommy & D.O.G. the pig with their RV for you to paint, and drop into LEAF Outreach Pavilion & Art Raffle.
5. Sprouts Village! On the lawns near Lake Eden's beach find roaming performers, puppeteers, hoop dancers, slackline, poi, & the LEA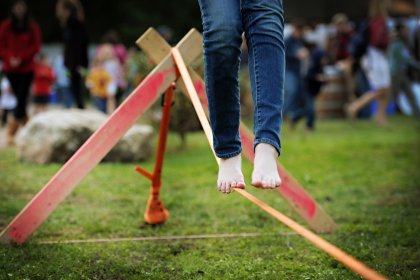 F Parade will come through. Sprouts Corner Young Artists sell handmade arts and young stars may busk on Youth Talent Stage.
6. Elfhaven Village! Jump, roll, pet, climb, and retreat: trampoline, life-size hamster ball, climbing wall, toy trains, Creature Feature w/ Brother Wolf Animal Rescues, Fireside Story Time, Mama-Baby Lounge along with Elfhaven Childcare sweetness.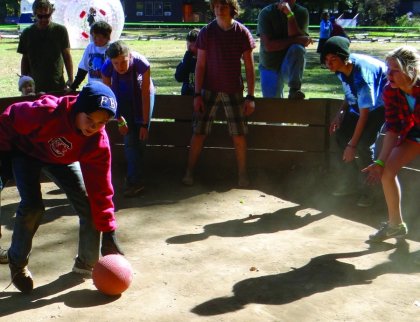 7. World Wide Play Field! Games and matches for kids, teens & adults: soccer, ultimate frisbee, fun games and even singles kickball. Thunderball is nearby as well.
LAKE EDEN! While it's not an official "village"- one of the gems of LEAF are the super SPLASHY lake adventures: swim, zipline, canoe, kayak, stand-up paddleboards, or make BEACH sand castles.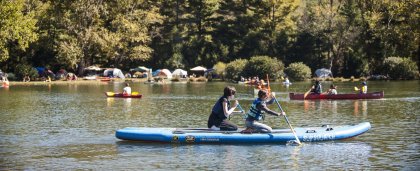 "We are answering the call of the parents and making the entire festival more of a family experience. Everyone can enjoy the activities in each village including the kids and people without kids,"
- Morgan Markowitz, LEAF's Family Adventure Director.
The Roots Stage





SO MUCH FUN for

Toy Boat Circus Workshops

Elfhaven Childcare
Special lullabies each night 9pm-10pm by The Freewheelin' Mamas!


LEAFlet Kids Village is more fun than a barrel of monkeys.
For the "KID" in everyone!
Elfhaven Childcare

is a sweet creative play space for kids and little ones, located in Arrowhead Lodge. The longtime childcare crew creates a magical kids world with arts, crafts, games, puppets, books and blocks. A very special festive childcare. Kids have fun and parents go play!


Friday

•

7pm-1am
Saturday

•

12pm-2am
Sunday

•

12am-4pm




•$5 per hour- Sibling discounts are given.


•Sign up EARLY at Arrowhead Lodge...spaces are limited.
Pre-registration starts at 3pm Friday for all weekend childcare slots.
Drop-in care is ALSO available all LEAF.





Kid Market & Salon

Kids Market

is ORIGINAL kidmade art sold by kid artists. Fun shopping!

Kids Salon

is for kids to offer their special skills & services, like fortune telling or manicures!




Both are in the LEAFlet Kids Village.
Kids 14 & under.


Friday 4-8

•

Saturday 10-6

•

Sunday 10-4




Kids Market & Salon Guidelines




*

All items must be HANDMADE & sold by kid artist for $8-or less (no candy, food, store bought items or marshmallow guns).


*

Kids SIGN UP at Village during selling times and pay a $4-daily fee for space. Fee is donation to LEAF in Schools & Streets!


*

Kid artists may share space, but not fee.


*

No "items" may be sold at Kids Salon, only services may be provided.